Woodlands Medical Aesthetics Institute
17350 St Lukes Way Suite 380
The Woodlands, TX 77384
Phone: (936) 273-9053
Monday–Friday: 9 a.m.–5 p.m.

Dermal Fillers
Lost volume is a natural part of the way our faces age over time. You may notice your cheeks look a bit flatter, you have lines or creases that weren't there before, or your lips are a little thinner than they used to be. It happens to just about everyone! But with JUVÉDERM® and other injectable dermal fillers in The Woodlands, TX, you can replenish that volume and restore a face that looks as youthful as you feel.
Injectable dermal fillers don't require any surgery, just a quick series of injections with little to no downtime. With the right fillers in the right places, you can enjoy more youthful features and enhanced contours for months at a time.
Dermal Fillers Before & After Photos
Keep in mind that each patient is unique and your results may vary.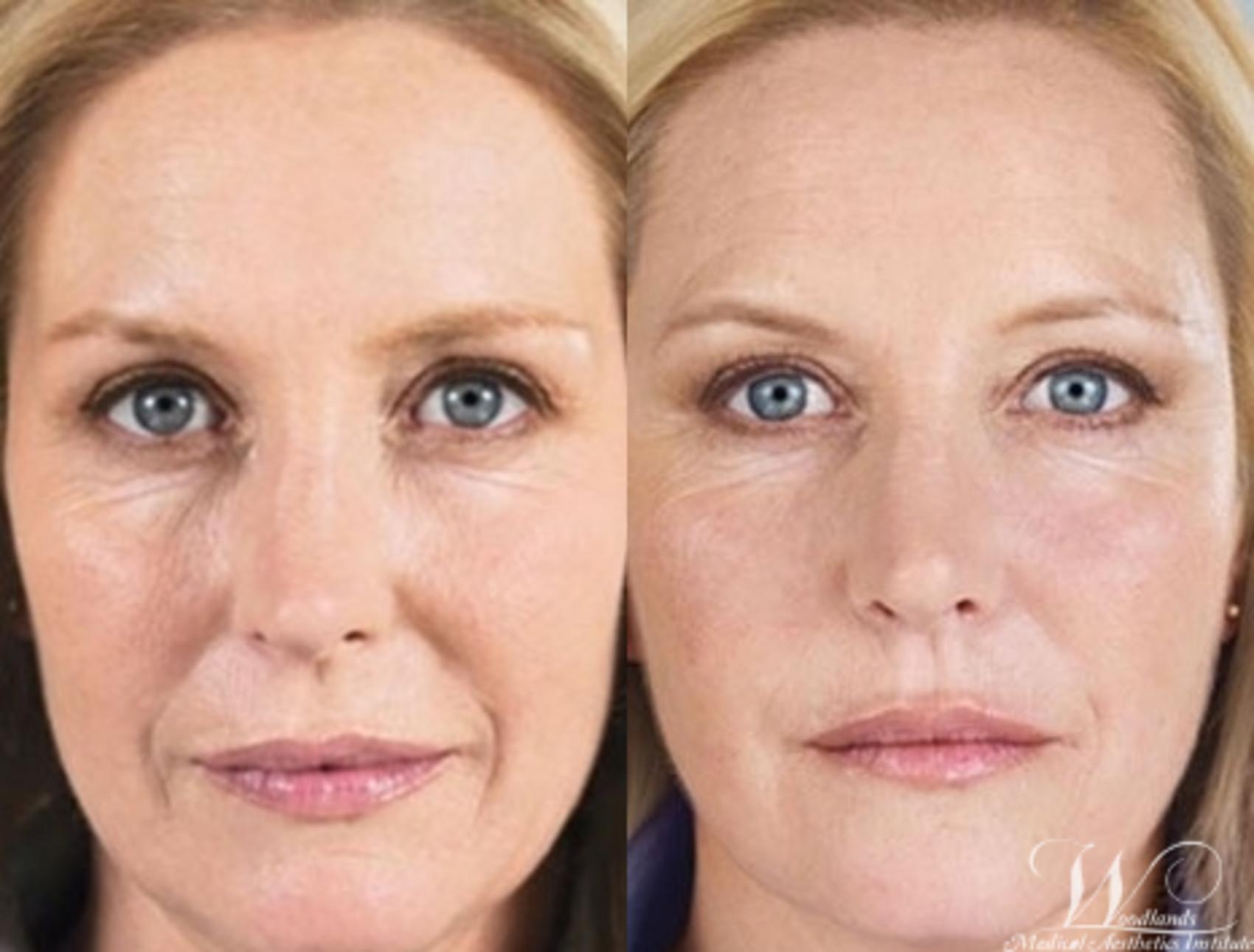 Before & After
Keep in mind that each patient is unique and your results may vary.
JUVÉDERM VOLUMA® XC
JUVÉDERM VOLUMA XC is the first and only hyaluronic acid (HA) filler FDA-approved to instantly add volume to the cheek area. It gives you a subtle lift, restoring the contour of your cheeks and creating a more youthful profile.
Results from JUVÉDERM VOLUMA XC are instantaneous and generally last anywhere from 18 months to 2 years.
How It Works
One of our highly experienced injectors will place JUVÉDERM VOLUMA XC under the skin using a fine needle to augment, or fill, the soft tissue of the dermis, the dense inner layer of skin beneath the epidermis. This adds volume and diminishes wrinkles and folds. The injection process takes only about 15 minutes.
Who It's Right For
JUVÉDERM VOLUMA XC injectable gel is great for:
Nonsurgical cheek augmentation
Nonsurgical chin augmentation
Filling in deep lines and folds
Restylane®
Restylane is an injectable HA gel. By replenishing your skin's supply of hyaluronic acid, it revitalizes and plumps up its surface, instantly diminishing the appearance of lines and giving a softer look.
How It Works
Once injected into the dermis, Restylane gel enhances your skin's own stores of hyaluronic acid, directly adding volume to either soften the signs of aging or enhance your features. The procedure is quick, usually taking less than 30 minutes. The benefits can be seen immediately.
Who It's Right For
Restylane treatments:
Smooth out facial lines such as marionette lines and nasolabial folds
Create fuller lips
Shape facial contours, such as the cheeks and chin
Restylane® Lyft

Restylane Lyft is a clear gel formulation of hyaluronic acid that is specifically formulated to act like your body's own hyaluronic acid, adding volume and fullness to the skin.
How It Works
Restylane Lyft differs from Restylane primarily in the size of the particles and the depth of the required injection. Restylane Lyft, used for deeper wrinkles, has larger particles that are injected deeper into the skin than Restylane.
Who It's Right For
Restylane Lift is FDA-approved for the correction of moderate to severe facial folds and wrinkles, such as nasolabial folds.
Sculptra® Aesthetic
Sculptra Aesthetic is an FDA-approved injectable that helps gradually replace lost collagen, an underlying cause of facial aging, for results that can last more than 2 years.* Sculptra Aesthetic works subtly and gradually over time to give you a more youthful-looking appearance.
How It Works
Unlike hyaluronic acid (HA) fillers, Sculptra Aesthetic stimulates your skin's own natural collagen production to help restore its inner structure and increase facial volume that has been lost to aging.
Who It's Right For
Sculptra Aesthetic is intended for use in people with healthy immune systems as a one-time treatment regimen of up to 4 injection sessions that are scheduled about 3 weeks apart.
*Individual results and treatment sessions may vary.
Dr. Johnny Peet, FACOG
Founder
Dr. Peet leads a highly trained team of clinical and med spa professionals who combine laser technology, hormone therapy, and cosmetic treatments to give you a renewed sense of confidence and vitality, no matter your age, gender, or background.
Meet Dr. Peet
Request My Consultation
Credentials You Can Trust
Dermal Fillers FAQs
What is recovery like after dermal fillers?
The recovery process is minimal, which is part of what makes these treatments so popular. After your appointment, you may have some bruising or swelling that lasts for about a week. You can cover this up with some gentle makeup application so you don't miss out on your usual routine. Some people even have fillers injected during their lunch break.
---
What's the difference between fillers and BOTOX® Cosmetic?
Fillers smooth away wrinkles by replacing lost volume beneath the skin. They work well for folds, creases, or areas that need a little volume boost. BOTOX and Dysport® relax specific muscles to address wrinkles caused by repeated contractions. Crow's feet, frown lines, and forehead lines are popular treatment areas. Many people choose to combine both BOTOX and fillers to achieve their best results.
---
Can I reverse my fillers?
Hyaluronic acid fillers can be dissolved at any time with an injection of a product called Hylenex. This enzyme dissolves the fillers within 24 to 48 hours.
Request Your Consultation
Wondering if cosmetic fillers are right for you? Request a consultation online or call (936) 273-9053. Our dermal filler patients visit us in The Woodlands from Spring, Montgomery, Conroe, and surrounding Texas communities.